Product Application
Double shaft shredder also named shearing machine, by cutting, tearing and extruting to reduce the materials' size, widely used in area of waste plastic, waste rubber, wood, crop straw, automobile recycling…etc, this is a quality and reliable equipment in recycling business.
It is widely used in industry waste recycling,medical recycling,electronic recycling,municipal solid waste recycling,plastic recycling,tire recycling,paper making industry,etc.
Raw material of double shaft shredder 1. A variety of hollow containers: Plastic beverage cans, plastic buckets, iron cans,packing boxes.2. Waste household appliances: TV, washing machine, refrigerator shell3. Pipe: Large pipes, pipe fittings, PE pipe4. Waste template: wooden pallets, plastic pallets,truck pallet5. waste tires: car tires, truck tires6. scrap metal: car shell,Aluminumdiecastingscraps, engine shell, gear boxes ,lead as well as the steel plate with less than 5mm thickness.7. The food waste, garbage, animal carcasses, RDF derivatives, medical waste, biological straw, garden garbage.
Main Features
A:The special design with enough power,it can ensure the production.
B:The shredder with low running cost and long lifetime.
C:And this machine adopt PLC control system,ensure the efficiency and control power,it is easy to operate.
D:Materials of knives is 9 crsi,it is endurable.
Working Principle
The matrial will be transferred to the blades assemble box by conveyors,there are many knives in the assemble box,and the material will be tear,extrusion,shear and other integrative action,then the small pieces material will be out from the bottom of the shredder.
Advantages of double shaft shredder
1.Double shaft constructed with claw knives for extremely powerful shredding capacity.
2.The blades(knife)are made of special alloy steel, heat-eatment, can be replace by piece and re-welded.
3. Motor combined with gear box drive, low-speed with high torque ensuring superior output.
4. The heavy pitch gear are precision manufactured from special alloy steel, heat-treatment, hardened for durability. 5. Oil bath lubricated gear box assures smooth running ,low noise, high torque and durability.
6. With low speed and high-torque designed, provide low noise and lesser
dust, with friendly environment working place.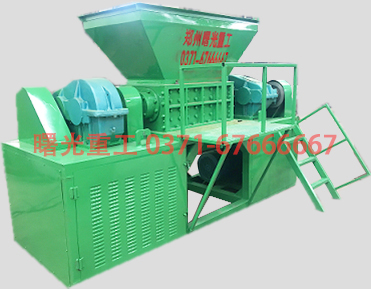 Type
Feed Size(mm) length * width * height
Power(kw)
Blade Size
Diameter(mm)
Thickness(mm)
SG600
﹤500*500*3
7.5-18.5
300-600
20-40
SG800
﹤700*700*5
15-45
300-600
20-40
SG1000
﹤800*800*8
30-55
300-700
30-100
SG1200
﹤1000*800*10
30-90
300-700
40-100
SG1500
﹤1000*1200*20
37-90
400-700
40-100
SG1800
﹤1200*1500*25
55-110
500-700
40-100
SG2000
﹤1500*1600*30
90-132
500-700
50-100
Note1:The final configuration of each model is determined by the size of the blade; Note2:The size of feed material must be within the tearing capacity of each model; Note3:The size of finished materials produced by different size cutters is different; Note4:No matter what kind of material needs to be fed evenly; Note5:Solid metal materials must be customized according to material size.
Zhengzhou Shuguang Heavy Machinery Co.Ltd id founded in 1993, which is a specialized enterprise dedicated to R & D and production of the raymond mill, calcium powder machine, all kinds of crushing machines, and mixer. our company by eputation first, service first, customer first is an objective and take integrity as life.All for customer's satisfaction efforts, all for the company's long term healthy development efforts. We solemnly promise that we will depelope us with good quality and credible after sale service! We sincerely welcome you to our company and give us suggestions and directions!!!